A curbless shower entry offers many benefits. The smooth transition creates a streamlined look, amplifies a feeling of openness and assists with accessibility. To see what's possible, check out the curbless shower details in eight new bathrooms on Houzz.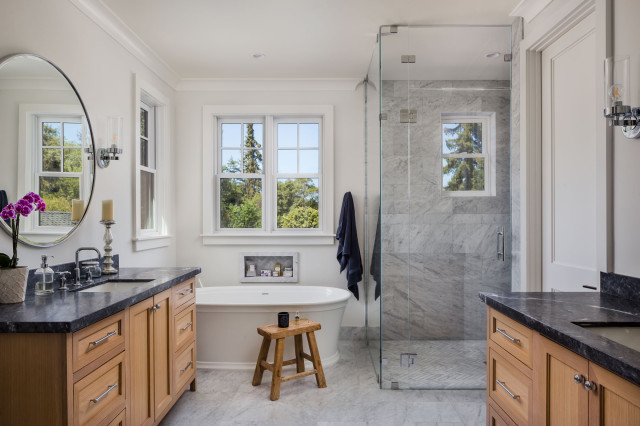 Arch Studio, Inc.1. Creative Corner
Architect and interior designer: Robin McCarthy of Arch Studio
Location: San Jose, California
Homeowners' request. A light, bright and airy bathroom with a freestanding tub. "Lots of natural daylight and window views were important, while also maintaining privacy," architect and interior designer Robin McCarthy says. "The clients wanted the flooring material to be seamless across the room and into the shower, and also liked the idea that it would be perfect for aging in place with no trip hazard."
Curbless details. White Carrara marble tile covers the floors and shower walls. McCarthy introduced the tile in a herringbone pattern for the shower floor to differentiate the space.
Other special features. Rift-sawn white oak vanities have a natural sealed finish and Sandy Blue marble countertops. "We thought that polished chrome hardware and fixtures would maintain the elegance and timelessness of the space," McCarthy says.
Designer tip. "Some clients can get hung up on resale and will not add personality to the space," McCarthy says. "I think that personality ideas for color, finishes and details are what make a space a success. It is what separates your space or home from everyone else. A designer can help guide you to make a wise and seamless design choice."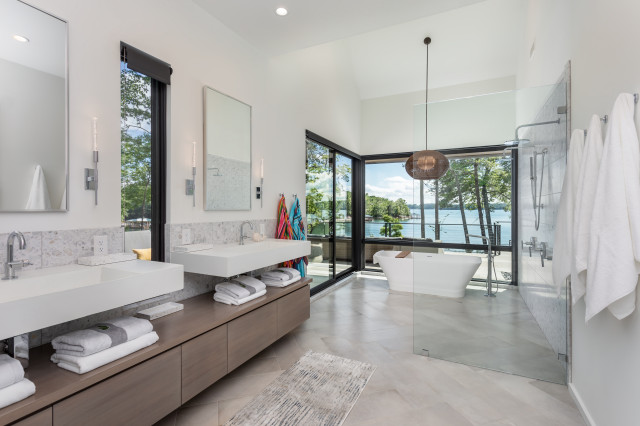 Fairview Custom Homes2. Wet Room That Wows
Designer: Amy Faulkenberry of ID Studio Interiors
Builder: Fairview Custom Homes
Location: Six Mile, South Carolina
Size: 180 square feet (17 square meters); 9 by 20 feet
Homeowners' request. An open, sleek bathroom that captures the lake view.
Curbless details. "It seemed natural to have a curbless shower because of the openness of the space," says designer Amy Faulkenberry, who used Houzz ideabooks to collaborate with her clients. "We had an amazing tile installer that was able to flawlessly make the transition from the level bathroom floor to the sloping shower floor in the same herringbone pattern. A fixed glass panel prevents the view from being blocked while containing the water from the shower."
Other special features. Terrazzo tile shower walls and vanity backsplash. Custom concrete countertops with integrated sinks. Custom floating vanities.
Designer tip. "We made the walls and trim the same color to create a simple, modern feel," Faulkenberry says. "Painting the window sashes a dark color gave some depth and contrast."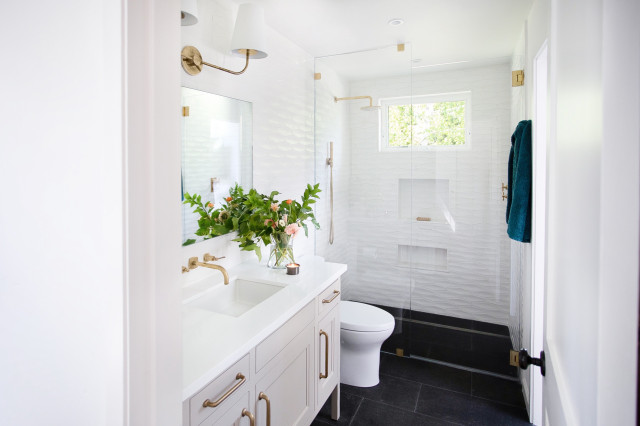 LSDesign3. Open and Outstanding
Designer: Lorie Satzger of LSDesign
Location: Menlo Park, California
Size: 62 square feet (5.8 square meters); 5⅔ feet by 11 feet
Homeowners' request. A new en suite addition for a daughter that's also accessible to guests and other family members. "The style of the bathroom needed to be welcoming as well as fun and artistic to a young girl," designer Lorie Satzger says. "Our main goal was to appeal to our clients' daughter while offering a sophisticated feel that will coincide with the rest of the home remodel that's to come."
Curbless details. "I use curbless showers in the majority of my projects," Satzger says. "I like them because of the clean and seamless look they provide, especially in a smaller bathroom as it helps open up the space. We also added a linear drain in the back of the shower where the floor slopes for function and drainage."
Other special features. "We wanted to maintain a neutral color palette that expressed elegance while maintaining a whimsical feel in the space for our clients' daughter," Satzger says. White geometric wall tile adds dimension and brightness. Black basalt stone floor tile provides grip. Brass hardware and fixtures bring a bit of warmth to the black-and-white palette.
Wall paint: Swiss Coffee, Kelly-Moore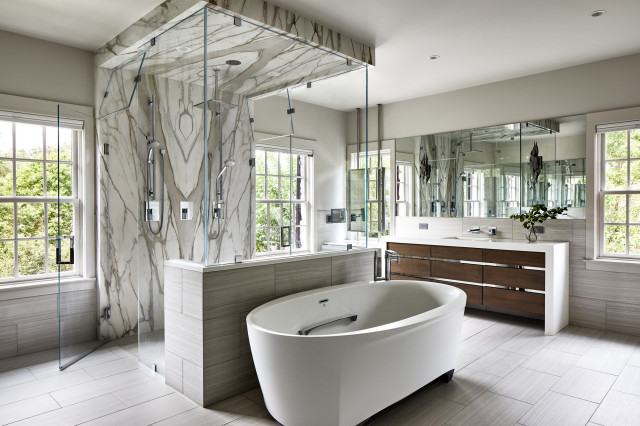 BOWA4. Daring Duo
Designer: Sarah Armstrong of Studio360
Design-build pro: BOWA
Location: McLean, Virginia
Size: 324 square feet (30 square meters); 18 by 18 feet
Homeowners' request. "The homeowners wanted a modern, clean bathroom to share but still maintain separate zones," designer Sarah Armstrong says. "They wanted something that would wow them every time they walked in."
Curbless details. The double-sided curbless shower features porcelain tile on the floor in a smaller size and pattern than the same tile used for the main bathroom flooring. A linear drain tucks along the front edge of a shower bench.
Other special features. Large-scale marble-look porcelain slabs line the shower wall and ceiling. The shower also functions as a steam shower. Glass panels near the ceiling can tilt open or closed to trap or release steam as needed. "We angled the ceiling slightly to prevent condensation from dripping on the client when using it," Armstrong says. The custom vanity is stained white oak with metal edging hardware.
Designer tip. "We created a 3D model of this space to help the client visualize the space and present all the selections at one time," Armstrong says. "They fell in love with the image and then we executed that look down to every detail. It made the decision-making process go very smoothly."
Project photos: Stacy Zarin Goldberg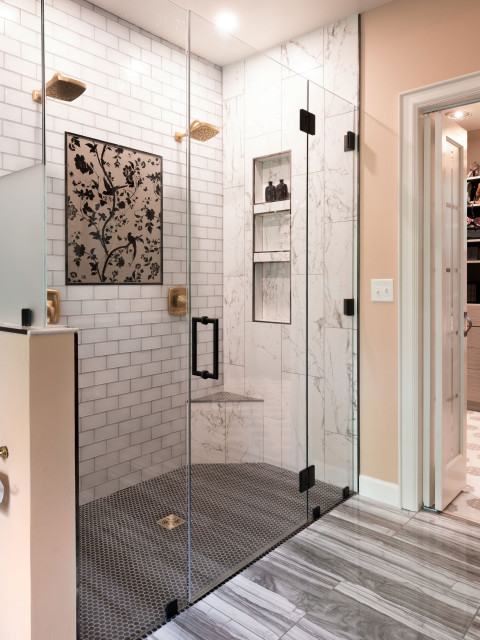 Laksmi Interiors5. Glam and Gorgeous
Designer: Laksmi Lucky Lumpkin of Laksmi Interiors
Location: Knoxville, Tennessee
Size: 126 square feet (12 square meters)
Homeowners' request. Convert a living room and an unused porch into a large primary bathroom and closet. "The wife is a glam girl but loves nature, so I had to incorporate both of those vibes in a harmonious way," designer Laksmi Lucky Lumpkin says.
Curbless details. "My client wanted a glam and transitional bathroom," Lumpkin says. "The way to allow for a seamless transition in the tighter space between the shower and vanity was to leave it curbless. She also wished for beautiful glass doors, which helped keep the space open as well." Gray wood-look porcelain floor tile in a polished finish transitions to matte black penny round tile for the shower floor.
Other special features. "The center tile is the showstopper," Lumpkin says. "There was only one of those tiles left and my client is a huge nature enthusiast, especially for birds. Keeping the field tile neutral with white classic subway tiles and natural marble allowed the elegant bird tile to shine. Of course, the brushed gold Moen shower fixtures added a little sparkle to finish it off."
Designer tip. "The most important thing is space planning," Lumpkin says. "This was not a large space, but with the correct space planning it feels large and open. Try not to create 'dead space.' Scale and measurements are everything."
Wall paint: Boudoir, Benjamin Moore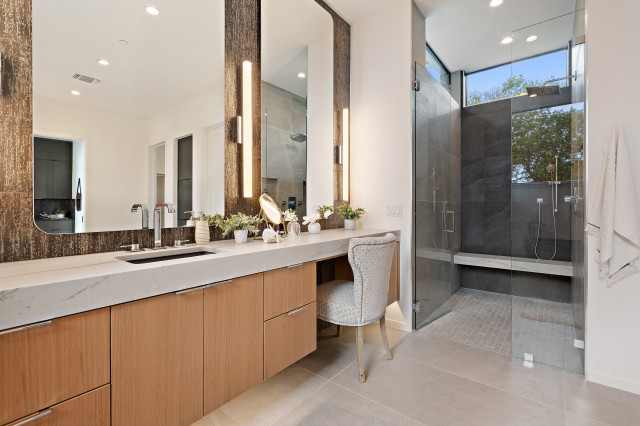 Cornerstone Architects6. Welcoming Walk-In
Designers: Sara Malek Barney of Bandd Design (interior design) and Cornerstone Architects
Location: Austin, Texas
Size: 130 square feet (12 square meters); 10 by 13 feet
Homeowners' request. For this spec home, designer Sara Malek Barney aimed for a fresh, modern and timeless look. "For this bathroom, we used a mix between transitional and contemporary design styles with a bit of a rock 'n' roll edge," she says.
Curbless details. Malek Barney chose a curbless shower for a clean design and to give the room less of a traditional, standard-grade bathroom feel. "Don't be afraid to consider a curbless shower," she says. "It can make the space flow together really nicely and provide a more elevated look." Large-format porcelain floor tiles transition to smaller porcelain tiles in the shower, where the additional grout lines provide better grip. The shower walls are also large-format porcelain tile.
Other special features. Rift-sawn white oak vanity with a marble-look quartz countertop.
Sconce lighting: Basis, 36 inches, Tech Lighting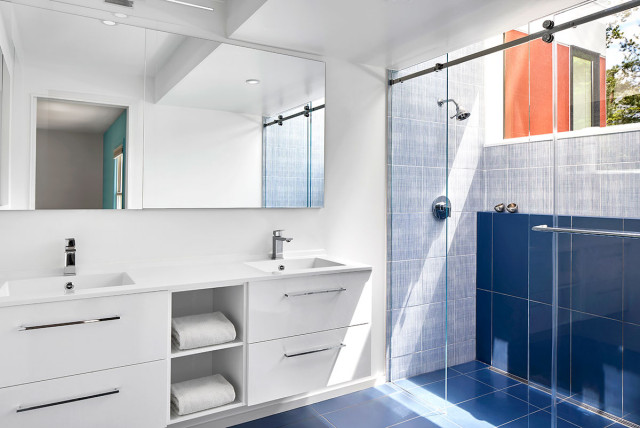 KUBE architecture7. Bright and Blue
Designers: Matthew Dougherty and Richard Loosle of KUBE architecture
Location: Bethesda, Maryland
Size: 73½ square feet (6.8 square meters); 7 by 10½ feet
Homeowners' request. "The overall theme for this bathroom, and the entire renovation, was to create an open and light-filled interior in what had previously been a cramped and dark space," architect Matthew Dougherty says. "We wanted to take advantage of a large backyard with many trees and create a visual connection between interior and exterior. The best way to accomplish this in the bathroom was by using large windows and putting a skylight in the shower."
Curbless details. Large-format navy blue tiles run the length of the space, into the shower and up half the wall, where they end at a shower shelf. "The homeowners preferred the ease and accessibility of a curbless shower," Dougherty says. "It allows for easy entry into the shower for the owners, who plan to age in place in their home. Aesthetically, we love how simple and elegant it looks. A curbless shower allows for an unbroken row of floor tiles and a seamless transition into the shower. Our contractors were able to slope the floor joists to allow for the shower floor to gently slope to a linear drain along the back wall."
Other special features. Streaked blue-and-white ceramic tiles cover the other shower wall areas.
Designer tip. "The use of only one color — blue — and neutral walls allows for streaks of light from the windows to have a stronger visual presence in the space," Dougherty says.
Blue-and-white tile: Watercolor Lines in French Blue by Annie Selke, The Tile Shop; general contractor: New Era Builders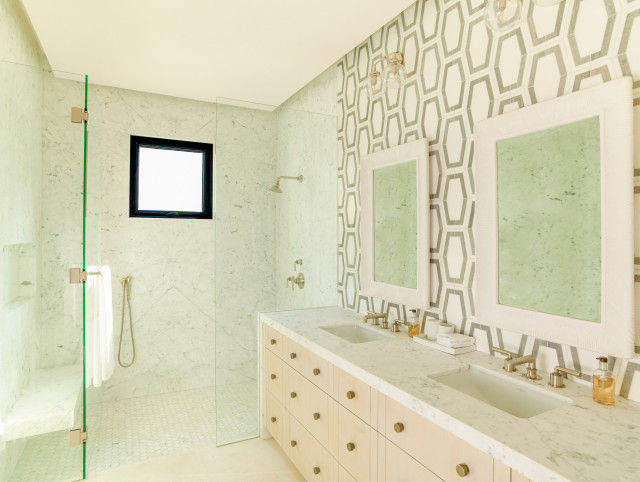 Erica Bryen Design8. Marble Mood
Designer: ​Erica Bryen Design
Location: Cabo San Lucas, Mexico
Size: 175 square feet (16 square meters)
Homeowners' request. For this new-build home, the owner wanted a guest bathroom that's light, bright and airy and has some visual interest.
Curbless details. "We really wanted to incorporate a clean, bright, sleek and modernized look in this guest bathroom and for it to be accessible for all users that may be visiting the home," designer Erica Bryen says. "By using the curbless shower style, we were able to achieve this look while still using all of the materials we envisioned for the space." The hexagonal tiles on the shower floor are white Venatino marble.
Other special features. The shower walls and vanity countertop are Bianco Gioia marble in a honed finish. The backsplash tiles are an elongated hexagon with Thassos and gray marble.

Designer tip. "Add variation and use different materials that work together to add interest," Bryen says. "When doing this, decide mindfully to repeat that same element elsewhere to connect the whole space together."
"Uh-oh" moment. "A huge recommendation while working on any project that incorporates tiles or slabs is to ensure you add at least 10% to 15% more material to your purchase for incidentals," Bryen says.